Hey everybody. It's been a really long time since I've had a blog post. Probably two or three months or something. I might as well start this post with some stand alone images I've created in the past couple of months.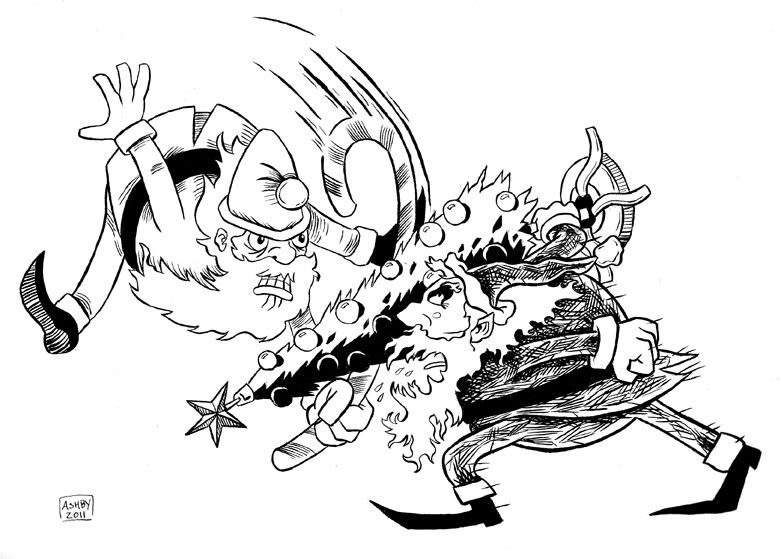 See? It's been since like Christmas or something since I last posted...
The above image was a study for an upcoming comic I'm illustrating.
Good ole ten ton sketch challenge for Mars Attacks.
A piece of art I created to try to get a job at Fantasy Flight.
I haven't been updating the blog lately because I've been working, and the work is just about to get a little more intense. But talking about work is boring. Here's some more exciting info:
I will be exhibiting at MCBA Springcon this year for the second time. I'm very excited!
After MCBA Springcon I will be at....
I am super excited for this as well! This will take place in the middle of June around the 15th or 16th or so. And then the last show I will be going to this year will be-
I'm not positive that I have a table here yet but I will most surely attend as a guest if not an Artist Alley exhibiter.
At MCBA I should have a bunch of new stuff including a second print run of Raptors, as well as a collection of sketches I've completed over the past couple years called Rich Black. A new webcomic will most likely be launched by then as well. It is written by Frank Darden and involves some cartoony hilarity. We've been working on an initial set of pages since december and let me tell you, it's been a pleasure to draw these pages. Grotto Part 1 and 2 will also be for sell and I should have some new prints as well.
At CAKE I will most likely be delivering the same goods as above with a special sneak peak of a graphic novelette five years in the making.
At NYCC I will have the above Graphic Novelette in it's first print run. It will be sixty pages of offset lithograph printed goodness, I can only hope.
Follow me on twitter @ashbyutting for more weekly updates. Peace out, folks.